Angelica~An Angel Site
All About Angels
I've always felt connected to Angels since the first time I ever saw a picture of one in a church handbook as a child…and years ago I started collecting Angel ornaments, a new one every Christmas. Then as time went on I started buying Angel sculptures and artwork. Now I have a whole room filled with Angel pictures, and Angel sculptures are all over my house too.
I am sure my guardian Angels have helped me all through my life, and even saved me at times. I've always wanted to have a business centered around them. So on this site I have a blog (Angelica) about Angels, which is here and a store for you to buy Angel products
I have included quite a few Angel quotes and poems, and a fair amount of Angel artwork for your enjoyment, and even Angelic music for you to enjoy. Plus if you are looking for Angel images to use in crafts I have you covered on that too as further down the page is a list of links to free Angel printables and images for you to use in all your artistic home school and craft endeavors, Really I tried to find all the Angel resources I could for you along with merchandise in case you are shopping for an Angel lover.
I also have my own Angelica design on shirts, mugs, totes, and pillows for sale. And there will be celestial images added from time to time via my Angel blog. There are also some beautiful videos with celestial images and Angelic sounds. Enjoy!
Or if you're in a super hurry, click here for lots of Angel Gifts!
Image: Angel Print, from Zazzle.com
Angelica Definition
Angelica (an jel' e ke) n. 1. of, pertaining to, or about a class of celestial beings/messengers known as Angels 2. paraphernalia of Angels used by them to bestow blessings and acts of great kindness 3. a collection of wisdom written or sung by Angels -syn.
"Angel stuff " see also, n. Angelology, the study of Angels adj. Angelic, Angelical, adv. Angelically
©2008 by Heather Burns
"I believe in Angels, that they're
always hovering near, whispering
encouragement whenever clouds
appear, protecting us from danger
and showing us the way.
Performing little miracles
within our lives each day."
~Anonymous
Introduction to Angels
Angels are believed to be intermediary beings between God and humans, heaven and earth, who have shown themselves to humans since the beginning of history. They have assumed many different forms and guises,and have prophesied, healed, rescued, and comforted. Sometimes they have also threatened and destroyed. Their existance has been important to all the major religions of the world.
Since the advent of the camera, there have been many instances where Angel images have actually been caught on camera! This has caused even disbelievers to reconsider. There are also many instances of eye witness accounts of them in situations where they clearly intervened. Not just one eye witness, but multiple witnesses of the same event, giving even more credence.
The Angel that presided o'er my birth
Said, "Little creature,
formed of joy and mirth,
Go love without the help
of any thing on earth."
~William Blake
"Angel of the Dawn" Postage
Angel of the Dawn is an original painting by my husband, Richard Burns. We have many products available with this image on it. Click on the postage to see more products at Zazzle.com.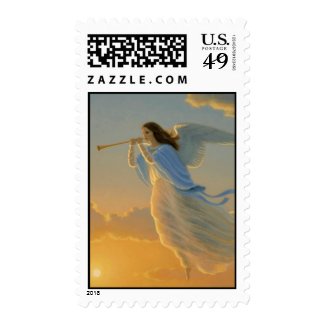 Angel of the Dawn Postage by Heather426
Design your own USPS custom stamps
Angels of the Days of the Week
Sunday: Michael
Monday: Gabriel
Tuesday: Samael
Wednesday: Raphael
Thursday: Sachiel
Friday: Anael
Saturday: Cassiel
"See, I am sending an Angel before you, to guard you
on the way and bring you to
the place I have prepared"
~Exodus 23:20
One of My First Angel Encounters
I was riding the bus to school. A bunch of older boys were passing around a jar with the lid on really tight and they could not get it undone. They had promised that if anyone could open it, they would be able to have some of the contents of the jar. Chocolate candy balls. So of course I wanted to try.
But I was only 6 and a girl so they kept saying no while passing it around again. I felt a presence swell up inside myself and I knew that I could open it. So I jumped out of my seat and insisted they let me try. One of the oldest boys said, "Let her try, of course she can't do it and then she'll leave us alone."
But I knew that I could, and the minute they gave me the jar, it moved easily in my hand, like something was pushing it without my effort. They stood in shocked silence. I smiled and took my candy. They insisted it was because they had all loosened it or I could never have done it. I knew it was something else, but I kept my secret to myself.
Dear Angel Ever At My Side
Dear Angel ever at my side,
How lovely you must be
To leave your home in heaven,
To guard a child like me.
When I'm far away from home,
Or maybe hard at play
I know you will protect me,
From harm along the way.
Your beautiful and shining face,
I see not, though you're near.
The sweetness of your lovely voice,
I cannot really hear.
When I pray, you're praying too,
Your prayer is just for me.
But ,when I sleep you never do,
You're watching over me.
~Psalm 91:11
 Celtic Border Irish Angel Tapestry Throw Blanket 50 X 60 In.
Types of Angels
There are different ways of numbering and/or ordering the Angels as we know them, but here is a general reference. My references are from the Catholic Bible and the Torah. The King James Bible left out 7 of the books which are in the Catholic Bible.
In the first hierarchy are the Seraphim, Cherubim and Thrones. Then a second hierarchy consists of Dominations, Virtues,and Powers. The third one is the group known as Principalities, Archangels, and Angels. Each group has their specific function and the higher in the hierarchy, the closer to God. Thus the Seraphim are closest to God, and spend all their time worshipping Him….while Angels serve as messengers and helpers to human beings. There has been disagreement among scholars as to their actual ranking. But the names of the different groups are set out in the Bible.
Guardian Angels are specific Angels given to each soul at the moment of birth and who stay all through life. Many people have seen their guardian Angels. Little children especially have mentioned all through history their encounters with them, although they are sometimes disbelieved.
"Millions of spiritual creatures
walk the earth
Unseen, both when we wake
and when we sleep."
~ John Milton
Angel Decor
If you love Angels, you probably want to have some around your house. I have some in every room, as their image gives me a peaceful feeling. I put them in all my plants too, and I really believe that helps my plants grow faster.
Manual Angel of Love Floral By Lena Liu Woven Tapestry Placemats TAOLTP 18.5×13
An Angel Thought
"We can all be Angels to one another. We can choose to obey the still small stirring within, the little whisper that says, Go. Ask. Reach out. Be an answer to some one's plea. You have a part to play. Have faith. We can decide to risk that He is indeed there, watching, caring, cherishing us as we love and accept love. The world will be a better place for it. And wherever they are, the Angels will dance."
~Joan Wester Anderson
"Angel of God,
My guardian dear
To whom God's love
Commits me here;
Ever this day
Be at my side,
To light and guard,
To rule and guide."
~Old English Prayer
"Angel of Abundance" Postage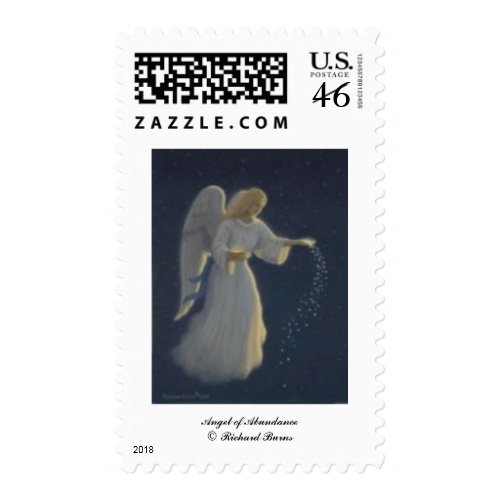 Angel Postage by Heather426
make your own stamp using zazzle.com
Touched by an Angel
A Poem, by Maya Angelou
Quoted from: I Know Why the Caged Bird Sings, A Book by Maya Angelou
Maya passed away this year, 2014. Her voice will be missed always! This is my favorite poem by her. RIP, Maya Angelou.
We, unaccustomed to courage
exiles from delight
live coiled in shells of loneliness
until love leaves its high holy temple
and comes into our sight
to liberate us into life.
Love arrives
and in its train come ecstasies
old memories of pleasure
ancient histories of pain.
Yet if we are bold,
love strikes away the chains of fear
from our souls.
We are weaned from our timidity
In the flush of love's light
we dare be brave
And suddenly we see
that love costs all we are
and will ever be.
Yet it is only love
which sets us free.

Browse other gifts from Zazzle.